Queenstown Veterinary Hospital is excited to offer rehabilitation services for your cats and dogs.
Physical rehabilitation is the diagnosis and management of patients with painful or functionally limiting conditions, particularly those with injury or illness related to the neurologic and musculoskeletal systems. The goal of rehabilitation is to achieve the highest level of function, independence and quality of life possible for the patient.
Dr. Matt Brunke is a veterinarian specialist in animal rehabilitation and is able to diagnose and initiate treatment for conditions causing your pet's pain.  This can include platelet rich plasma, stem cells, or cortisone. Working with our team, we can incorporate his recommendations with your pet's current medications. This multimodal approach provides greater opportunity for a successful outcome.
Dr. Brunke is able to perform radiographs to diagnose hip dysplasia as early as 16 weeks of age. He's also able to perform ultrasounds of joints and joint injections for pets with non-surgical joint pain. Dr. Brunke will work with pet owners to provide pain relief for our senior pets suffering from chronic arthritis. His services also include evaluations for neurological conditions and as Dr. Brunke says, he "can help anything that doesn't walk right.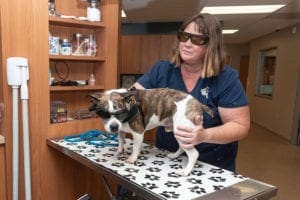 Dr. Brunke is available at Queenstown Veterinary Hospital weekly by appointment. You can set up an appointment with him by calling our front office. Contact us if you think your pet may benefit from these services.