1. Payment is expected when services are rendered. In order to focus on our patients' needs, customer service and minimizing costs, we do not bill.
2. We accept debit cards, credit cards (Visa, Mastercard, Discover, American Express, Care Credit) checks and cash. Checks must be personal and not issued on a business account. We will not accept a check from new clients on their first visit. However once you are an established client we will accept personal checks.
3. When unexpected illness strikes a pet, unexpected expense strikes as well.  Queenstown Veterinary Hospital understands this and has made arrangements through the Care Credit program. It takes just 5 minutes to complete an application online and purchases over $200 will allow you to break down your payment into 6 monthly installments.  You can apply online at Care Credit.
Insurance For Your Pets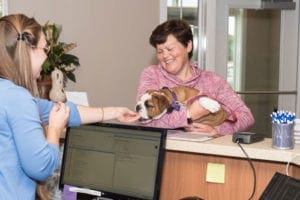 Another popular option for your pet is insurance coverage. To learn more, please visit the following pet insurance websites. Each plan offers different coverage and premiums; using their online calculators can help determine the best fit for your pet.
Visit Pawlicy Advisor, the leading independent marketplace for finding the best coverage for your pet at the lowest rate. Pawlicy.com can help you determine what policy is best for you and your pet.